A Tertiary Care Center's Conventional Percutaneous Nephrolithotomy (PCNL) Complications Rate
1.Sami ullah, 2.Muhammad Asif, 3.Naveed Haroon, 4. Ijaz Ali , 5. Azra Ghani
Keywords:
Complications, Territorial Care, Conventional, PCNL
Abstract
INTRODUCTION:
In A Tertiary Care Hospital, Monitor The Complication Rate Of Conventional Percutaneous Nephrolithotomy (PCNL).
MATERIALS AND METHODS:
From January 2016 To January 2020, This Descriptive Research Was Carried Out In The Department Of Urology
At Lady Reading Hospital In Peshawar, Pakistan. Four Hundred And Forty-Nine Individuals Who Received
Standard PCNL Were Studied. Preoperative Non-Contrast CT KUB Was Performed On All Patients. Once The 6fr
Ureteric Catheter Had Been Inserted Via The Lithotomy Position, The Patient Was Placed Into A Prone Position,
And The Procedure Was Completed Successfully. Prone Posture And 30FR Am Platz Sheaths Were Employed For All Surgeries, With Fluoroscopy Guiding Them. The Use Of A Pneumatic Lithoclast Accomplished Stone
Fragmentation. A 16-Fr Foley Catheter Was Used As A Nephrostomy Tube In All Instances. Six Surgeons, Each
With A Minimum Of Four Years Of PCNL Experience, Carried Out These Operations. Perioperative ComplicationsWere Rated Using A Modified Clavien Grading Scale.
RESULTS:
In All, 46.9 Percent Of The Patients Had Some Issue. There Were 120 (27%) And 54 (12%) Cases With Clavier
Grade I And Grade II Complications, Respectively. Antipyretics Were Used To Treat Transitory Fever In 67 (15%)
Patients Who Experienced Grade I Problems. In Comparison, Simple Pressure Dressings At The Bed Site Addressed Nephrostomy Site Leaking In 53(12%) Of The Patients. Among Those Who Suffered From Complications Of Grade II, 45 (10 Percent) Needed Blood Transfusions, While 9 (2 Percent) Were Ill With Sepsis And Required Intravenous Antibiotics To Treat It. Patients With Grade Iiia Complications, Such As Persistent Bleeding In 4 (0.8%) Patients Treated With Percutaneous Angioembolization And 6 (1.2%) Who Needed Perinephric Collection Draining, Developed 10 (2%). DJ Stenting Was Performed In 24 (5.3%) Of The Patients Who Had PCS Damage Or Chronic Leaking From A Nephrostomy Site, And A Colostomy Was Performed In 1 (0.2%) Of The Patients Who Had The Colonic Injury. There Was No Evidence Of A Problem Of Category IV Severity. Excessive Hemorrhaging Was To Blame For A Meagre 0.4% Of The Deaths.
CONLCUSION:
Nephrolithotomy Using Percutaneous Nephrolithotomy Is A Safe Operation That Is Cost-Effective And Well-
Tolerated. Minor Problems Like Transient Fever Or Nephrostomy Site Leaking Are Common, Although They
Usually Go Away Independently. The Level Of Complexity Has Been Reduced To Almost Nothing Thanks To The
Shrinking Of Pcnls From Conventional To Mini, Ultra Mini, And Micro.
KEYWORDS: Complications, Territorial Care, Conventional, PCNL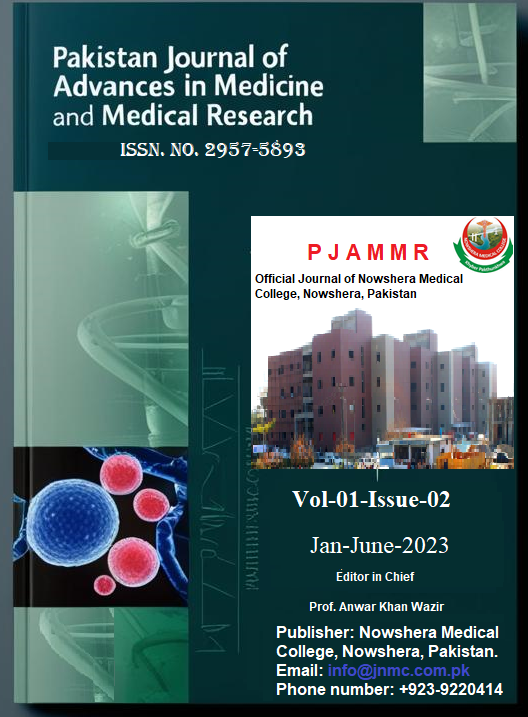 Downloads
How to Cite
ullah, S. ., ASIF, M. ., HAROON, N. ., ALI, I. ., & GHANI, A. (2022). A Tertiary Care Center's Conventional Percutaneous Nephrolithotomy (PCNL) Complications Rate: 1.Sami ullah, 2.Muhammad Asif, 3.Naveed Haroon, 4. Ijaz Ali , 5. Azra Ghani . Pakistan Journal of Advances in Medicine and Medical Research, 2(02), 01–07. Retrieved from https://www.pjammr.com/index.php/pjammr/article/view/10