Surgical Intervention for the Treatment of Multiple Glioblastomas
Muhammad Shoaib, Sajid Khan, Syed Nasir Shah, Imran Ullah, Bakth Jamal
Keywords:
Surgical Intervention, Treatment, Multiple Glioblastomas
Abstract
Background: Even when Glioblastoma (GB) is monitored, a fast rate of progression is almost inevitable. Early studies highlighted the endurance benefits of removing the GB, but few studies have evaluated the function of surgical intervention in treating Glioblastoma.
Objective: This study aims to evaluate the outcomes of glioblastoma patients' surgical resections.
Methods: the research was carried out at  MTI LRH Peshawar Hospital. To find 30 patients with progressing GB, records for everyone who had a glioblastoma biopsy or had it removed between January 2015 and January 2018 were identified and evaluated retrospectively. The median survival and 90% CI were derived by the Kaplan-Meier method. The multivariate analysis was conducted for age, Karnofsky score, amount of resection, tumor size, and tumor multifocality of survival following the advancement of the disease using the Cox Proportional Risks model.
Results: Patients with advanced illnesses underwent the first known resection. Patients who had not yet had resections had median survival after progression of 10.6 months for them and 4.0 months for them. In multivariable analysis, surgical intervention and KPS 0.70 (HR 0.411) were associated with improved survival after GBM progression.
Conclusions: Operative intervention for progressing Glioblastoma is effective in treating the symptoms in the current maximum non-operative treatment, but the survival of the patients is restricted. More research is needed to determine if surgical surgery can lengthen post-progressive endurance in people with progressive GB.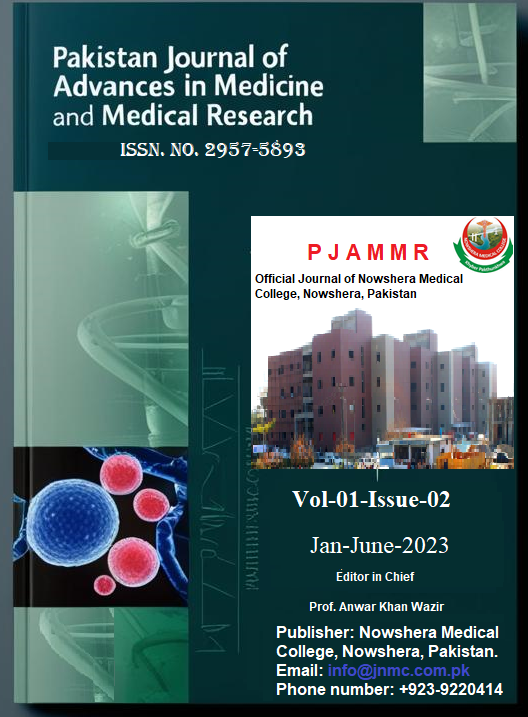 Downloads
How to Cite
author, M. S., ., S. K., ., S. N. S., ., I. U., & ., B. J. (2022). Surgical Intervention for the Treatment of Multiple Glioblastomas: Muhammad Shoaib, Sajid Khan, Syed Nasir Shah, Imran Ullah, Bakth Jamal . Pakistan Journal of Advances in Medicine and Medical Research, 2(02), 8–14. Retrieved from https://www.pjammr.com/index.php/pjammr/article/view/12