Anti-Glomerular Basement Membrane Antibody Disease With Normal Renal Function Was Discovered At The Miangul Abdul Haq Jahanzeb Kidney Hospital In Swat A Case Report Study.
Rahmat Ali Khan, Syed Munib, Mohammad Shahzad, Mufti Baleegh, Liaqat Ali , Mohammad Shahid
Keywords:
Anti-GBM, Pediatrics, Normal renal function, School urine screening programmed, case report
Abstract
Abstracts
 Background: Autoantibodies against the 3-chain of type IV collagen in the GBM induce a rare autoimmune illness known as anti-glomerular basement membrane (GBM) antibody disease, which causes rapidly progressing glomerulonephritis.
Objective: Anti-GBM nephritis was the cause of hematuria and proteinuria in a 7-year-old child who was screened during a urine screening program at school. There were no abnormalities in her blood pressure or serum creatinine levels. Her hematuria and proteinuria lasted for many months, desp ite her best efforts. A percutaneous renal biopsy was conducted because a spot urine protein to creatinine ratio of roughly 7 g/g Cree was observed. For the whole GBM, immunofluorescent labelling revealed a linear pattern. X-rays of the chest came back normal. Immunoassays performed to check for anti-GBM antibodies returned slightly elevated, leading to the diagnosis of anti-GBM illness with normal renal function. An intravenous high-dose methylprednisolone infusion and cyclophosphamide were the primary treatments. The medication was fast successful, with an immediate drop in anti-GBM titers and proteinuria.
 Methods : From January 2021 to July 2021, the study was conducted in the department of nephrology at the Miangul Abdul Haq Jahanzeb Kidney Hospital after ethical clearance for hospital administration of this study.
Results :Anti-GBM illness in infants with intact renal function is very uncommon. For this reason, professionals must carefully pick an appropriate therapy for youngsters since the prognosis is grim.
Conclusion :As shown in Figures 1 to 3 things are true of anti-GBM illness. Anti-GBM illness was suspected even though her kidneys were in good shape. A VUR might have caused this with a bladder issue as a secondary condition source. As an anti-GBM medication, DFPP works well for those with normal renal function.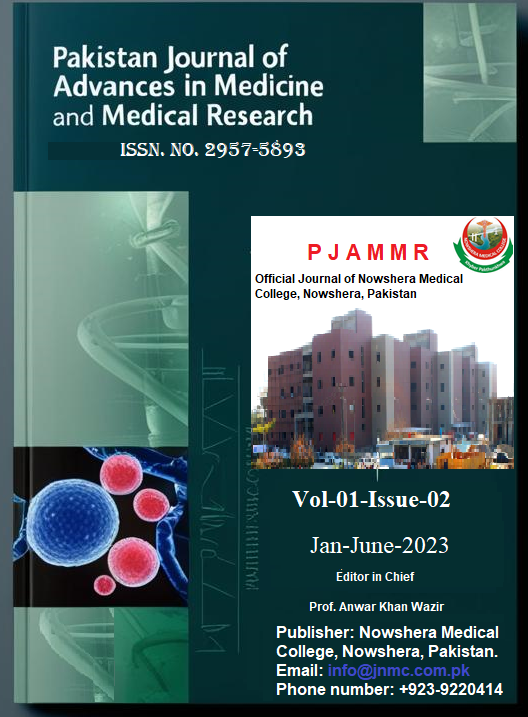 Downloads
How to Cite
Ali Khan, R., Munib, S. ., ., M. S., ., M. B., ., L. A., & ., M. S. (2022). Anti-Glomerular Basement Membrane Antibody Disease With Normal Renal Function Was Discovered At The Miangul Abdul Haq Jahanzeb Kidney Hospital In Swat A Case Report Study.: Rahmat Ali Khan, Syed Munib, Mohammad Shahzad, Mufti Baleegh, Liaqat Ali , Mohammad Shahid. Pakistan Journal of Advances in Medicine and Medical Research, 2(02), 15–20. Retrieved from https://www.pjammr.com/index.php/pjammr/article/view/14