MRI Diagnostic Accuracy In The Detection Of Emvi, In Carcinoma Rectum Using Histopathology As The Gold Standard
Naheed Khan, Sidra Saeed, Irsa Shuaib, Mehmood Akhtar Khattak, Hina Gul ,Kalsoom Nawab
Abstract
Background: Extramural Venous Invasion [EMVI] is the intravenous tumour extension beyond rectal wall in patients with rectal cancer. Being a predictor of worse prognosis, detection of EMVI is important to make decision regarding treatment options
Objective: To determine the diagnostic accuracy of pre-operative MRI in detecting extramural vascular invasion in patients with rectal cancer, taking histopathology as gold standard.
Materials & Methods: Total 118 patients who did MRI in Kuwait Teaching Hospital Peshawar for Rectal carcinoma from Feb 2020 till March 2021 were included in the study. Patients were examined with 0.3 Tesla MRI machine using MRI sequences T2WI, T1WI, FLAIR and DWI. Post op specimens were sent in formalin for histopathological assessment. Data including MRI features and Histopathological findings were assessed with SPSS version 24.
Results: Our study included 118 rectal cancer patients, 55.1% (85) male and 44.9% (70) female. 31-100 in 10-year increases. 31-50 and 41-50 had 4 instances (3.4%). Twenty (16.9%) patients were between 51 and 60, 22 (18.6%) were between 61 and 70, 35 (29.7%) were between 71 and 80, 11 (9.3%) were between 81 and 90, and 22 (18.6%) were between 91 and 100. MRI results found 57 EMVI-positive and 61 negative individuals. 45 (38.1%) patients had EMVI, whereas 73 (61.9%) did not. Cross-tabulation was utilised to analyse MRI's sensitivity, specificity, PPV, and NPV in diagnosing EMVI. MRI was 83.3% sensitive, 69% specific, 60% positive predictive, and 88.3% negative predictive. EMVI correlates with neoplastic mass.
Conclusion: Diagnostic accuracy, including sensitivity, specificity, positive predictive value, and negative predictive value, is high using MRI to identify EMVI in rectal cancer.
Keywords: Carcinoma Rectum, Extramural Venous Invasion, MRI, Mesorectal Fascia.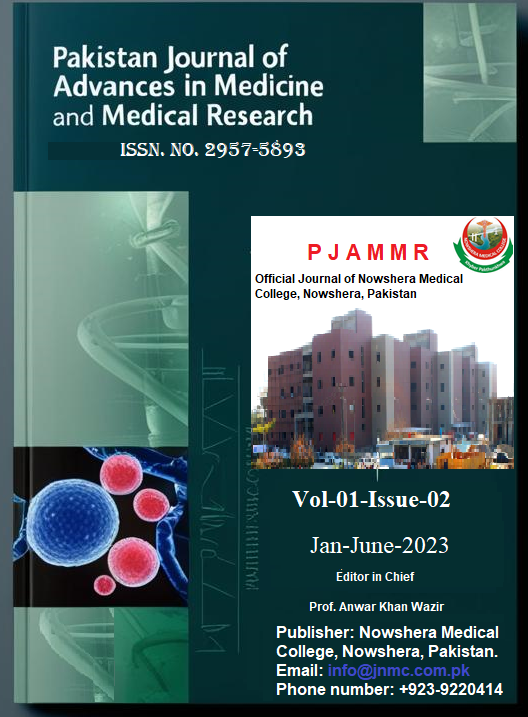 Downloads
How to Cite
MRI Diagnostic Accuracy In The Detection Of Emvi, In Carcinoma Rectum Using Histopathology As The Gold Standard: Naheed Khan, Sidra Saeed, Irsa Shuaib, Mehmood Akhtar Khattak, Hina Gul ,Kalsoom Nawab. (2022). Pakistan Journal of Advances in Medicine and Medical Research, 1(02), 01–06. Retrieved from https://www.pjammr.com/index.php/pjammr/article/view/16
License
Copyright (c) 2022 Pakistan journal of Advances in Medicine and Medical Research
This work is licensed under a Creative Commons Attribution 4.0 International License.