Migraine Associated Vertigo in Children and Teenagers Epidemiology and Treatment A Single-Center Study.
Mansoor Alam, Ubaid Ullah , Azam Khan , Sakawat Khan, Israr Uddin , Allah Noor
Keywords:
Vertigo, Children, Teenagers, Epidemiology, Treatment, A Single-Center Study
Abstract
OBJECTIVE: Describe The Symptoms And Outcome Of Vertigo In A Pediatric Population. Patients. The
Study Included All Children And Teenagers Who Presented With Vertigo In The Department Of
Otoneurology Northwest General Hospital Peshawar, Duration Between 2014 To 2021.
MATERIAL AND METHODS: Single-Center Study Looked At Children And Teens Who Reported
Vertigo Between 2014 And 2021. The Study Comprised Kids Under 13 With Normal Otoscopy, At
Least One Vertigo Episode, And No Previous Neurological Examination.
Acute Otitis Media And Otitis Media With Effusion Induce Vertigo In Children. The Current Study
Focused On Children And Adolescents Who Had Vertigo Despite Normal Orthoscopic Results. The
Sample Size Was Obtained Using SPSS 2.4.
RESULTS: The Study Included 74 Patients. Table 1 Shows Patients' Demographics And Presenting
Symptoms. 20 Patients (30%) Had Spontaneous Nystagmus, 5 Had Post-Head-Shaking Nystagmus,
10 Had A Positive Head Impulse Test, And 4 Had Positional Nystagmus (4 Percent). ENG Was
Suggested In 54 Individuals. Twenty-Three Youngsters Passed The Study, While Four Did Not. 20
(68%) Of The ENG Patients Showed Abnormal Caloric Tests, Characterized As Canal Paresis >26%
Or Directional Predominance >30%, According To Jongkees' Formula.
6 Patients Had Abnormal Positional Nystagmus
CONCLUSION: In A Child, Several Causes Of Vertigo May Appear With Identical Symptoms.
Depending On The Etiology, Hospitals And Clinical Results Vary. The Diagnosis Should Guide
Therapy And Follow-Up In Each Instance. Close Coordination With Medical Professionals Is Often
Needed To Get The Proper Diagnosis And Therapy While Avoiding Superfluous Lab Testing.
KEYWORDS: Vertigo, Children, Teenagers, Epidemiology, Treatment, A Single-Center Study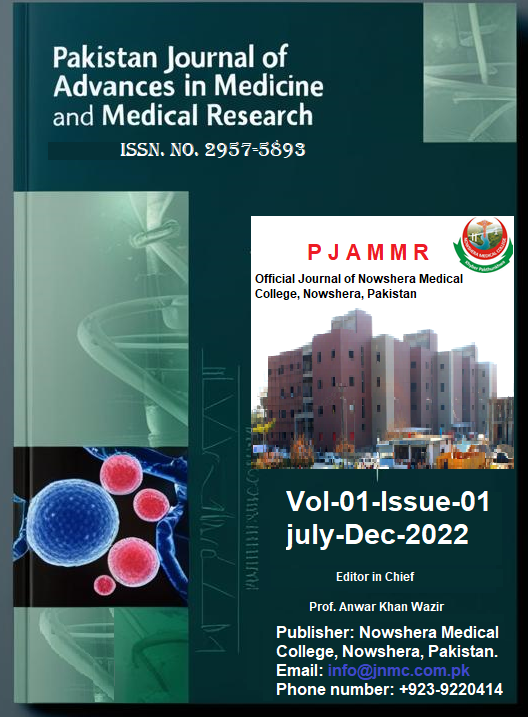 Downloads
How to Cite
Alam , M., ullah, U. ., Khan , A. ., khan , S. ., Uddin , I. ., & Noor, A. (2022). Migraine Associated Vertigo in Children and Teenagers Epidemiology and Treatment A Single-Center Study.: Mansoor Alam, Ubaid Ullah , Azam Khan , Sakawat Khan, Israr Uddin , Allah Noor. Pakistan Journal of Advances in Medicine and Medical Research, 1(01), 12–24. Retrieved from https://www.pjammr.com/index.php/pjammr/article/view/5